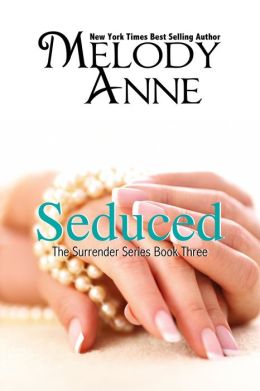 BLURB
At the end of Submit, Arianna Harlow had enough pride in herself to walk away from Rafe Palazzo, who had started their relationship using blackmail. Though she'd fallen in love with him, she was strong enough to say goodbye. We saw the softer side of Rafe, especially toward the end, but it was too late…
Or was it?
Seduced begins almost two years after Ari starts her new life. She is teaching at a community college, and when she asks the class whether they have any questions for her, Rafe is there and has only one: Will you go on a date with me?
What is Ari's answer? You'll find out in the third installment of Melody Anne's New York Times best-selling series, Surrender.
Along with Ari's story, we will see what happens when Shane and Lia become trapped together on an island when a tropical storm hits, and how the sparks will fly again.
And we can't forget about Rachel Palazzo, who isn't looking for love, but finds it in a shocking way.
This story continues the lives of Ari, Lia and Rachel. These three women are resilient, determined, and worth loving. The question is, whether the men in their lives strong enough to keep them.
REVIEW
OMG, this was by FAR the best of the series. I have been a FAN of Rafe from book 1. He can "Seduce" me anytime. He was on a mission and did not give up until he made Ari see that he had changed for the good. I was happy he let her lead as well as dominated when need be. I could have swooned at that proposal, what a sweetheart.
Shane story knocked my socks off and that twist was much needed. I feel for Lia because he is NOT giving up. Their adventure in paradise sealed that deal. I would say that Lia stubborn-childish ways got on my nerves but I guess she will open up in book 4.
Rachel dug a whole but the King Adriano is just like Rafe, never backing down. What a cliffhanger. This SERIES is a must read but WOW I can not wait to see how it ALL comes together in book 4 which will be released on November 11, Scorched…..
BUY LINKS
http://www.amazon.com/gp/product/B00DSTIN4K/
http://www.barnesandnoble.com/w/seduced-melody-anne/1116810386?ean=2940148804512
http://store.kobobooks.com/en-US/ebook/seduced-10
https://itunes.apple.com/us/book/seduced/id670816901?mt=11